In our last post, we discussed how valuable PowerPoints can be when you're designing online training for employees. Let's say you have a collection of PowerPoints on-hand that you'd like to transform into interactive, engaging e-Learning. How do you go about doing that?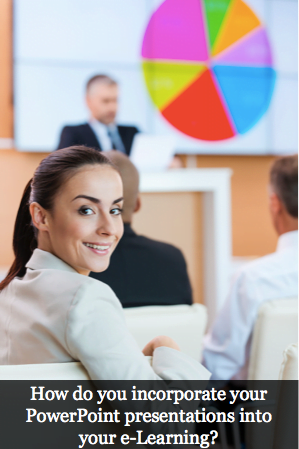 Create Objectives
While you may have used your PowerPoints to train employees in the past, now that you're venturing into online learning it's a good time to define or redefine the objectives you have for your employees.
Clearly define the goals you have for your employees, and your strategic business objectives that you hope will result from training.
You can then use these objectives to guide the development of online training.
Restructure
Even though PowerPoints can easily be integrated into your e-Learning when you use an eLeaP learning management system, if you want optimal results, some restructuring may be necessary.
First, begin by breaking your PowerPoints into sections or chapters. You can then include interactive elements at the end of each section, which will make it more compelling and digestible for learners.
Each separate slide should have its own title and should be followed by brief bullet points. This is the optimal way to reach learners, according to adult learning theory.
When you're restructuring you should also ensure content flows logically. This means there should be a clear and smooth flow from one slide to the next without unclear gaps in information.
Incorporate Audio and Video
While your initial PowerPoint presentations may not have include audio or video, it's something to consider adding to your e-Learning. Powerpoint makes it easy to embed videos that you've already created. When you select a learning management system such as eLeaP you can also include YouTube videos in your content.
Adding narration to PowerPoint slides will make training content feel more personalized and more interesting. Adding narration also helps clarify content and make up for the fact you're presenting PowerPoints without an in-person instructor.
Add Additional Information
To flush out your byte-sized bits of information and bullet points, include PDFs and other files that elaborate on what's being presented via PowerPoint slide. You can include not only videos, which we mentioned above but also infographics, charts, case studies and scenarios.
If you're including links to other web pages as additional resources for learners, add a web window, so they don't have to leave the course to access these pages.
The simpler you can make navigation and overall use of your e-Learning course, the more it's going to resonate with employees.
Get Learners Involved
One of the biggest pitfalls of PowerPoints is often that they lack a sense of interactivity. Using an LMS makes it easy to overcome this hurdle.
Some examples of ways to make PowerPoint-based e-Learning interactive include the addition of quizzes, discussion boards, forums and case studies that ask learners to assess a situation and then describe how they would address it.
Brand Your PowerPoints
You want to ensure training content is always in-line with your businesses brand identity, and this includes your PowerPoint presentation. Use fonts, graphics and color palettes that evoke your businesses' unique brand identity, to build employee loyalty and create a sense of unification.
Sound off—how do you incorporate your PowerPoint presentations into your e-Learning?
Don't Miss These Essential Tools